Global business models are here to stay, and Offshore Development services are a unique concept that can retain even more productive value from this situation. STAMOD gives you the power to hire experienced professionals and teams from major parts of the world known for their talent in the manufacturing and engineering field. We offer cost-effective solutions for companies to augment their currently flailing infrastructure with a lease of new life force, technology, and experience. All this without having to interview and train additional teams in-house. Just hire the augmented team from offshore, guaranteeing high-quality expertise and cost efficiency for your project. Further, you can only hire the team to work on the business operations premises while you remotely manage all activities and collaborate seamlessly with your offshore development team.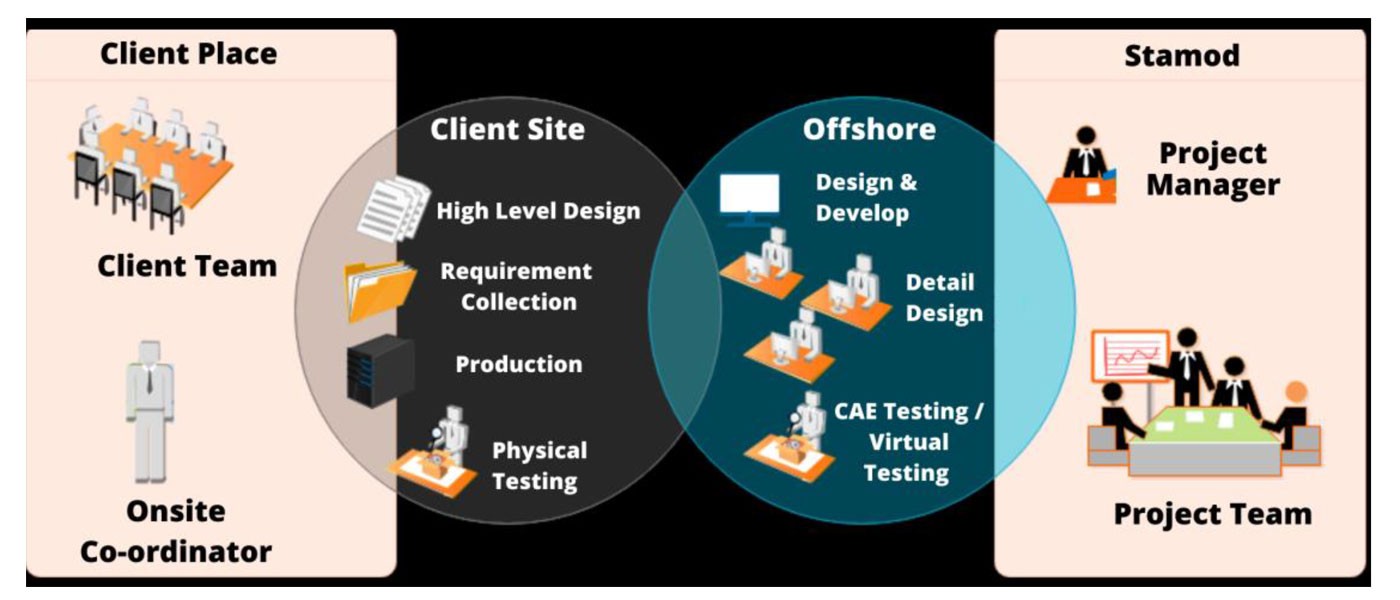 What We Offer
The Offshore Development Center (ODC) has become an increasingly popular business model for companies of all sizes to help increase productivity and reduce operating expenses by leveraging offshore talent. The ODC model has also proven to be a highly effective tool for providing clients with greater visibility and predictability in the development process. An India-based ODC can be a crucial component of an organization's global risk mitigation strategy and is preferred due to language, culture, time zone, and cost efficiency. STAMOD successfully operates several ODC's for North American and European clients. STAMOD delivers high value, outstanding quality, consistency, seamless delivery, secure communication, and real-time meetings using Microsoft Teams and GoToMeeting.
Why Choose STAMOD To Hire Offshore Development Services?
High-Quality Service
At STAMOD, we strive to provide 100% error-free and high-quality service in three different models. We work on production and design and offer offshore development services for embedded staff who can operate onsite at the Original Equipment Manufacturer (OEM) locations.
Fast Turnaround Times
We have a global infrastructure of companies and delivery centers that make up our offshore development services. We work to ensure that we provide the fastest turnaround time without compromising the quality of our services.
Highly Qualified Team
Our team comprises industry experts with 100+ person-hours of experience, with proficiency in practical production and theoretical design knowledge.
Global Infrastructure
STAMOD works with invested companies and partners across India, Malaysia, the Philippines, Indonesia, Sri Lanka, and Thailand.
Dedicated Point of Contact
When you trust STAMOD to outsource to our offshore development services, we immediately assign a dedicated project manager as the SPOC for clear communication and seamless management of the collaboration from the very first day until the project completion.
Scalable Service Packages
At STAMOD, we pride ourselves on providing flexibility of service. As a result, we can scale our team and infrastructure to adapt to the demand of your offshore development outsourcing project.
Innovative Technology Access
The standard of our infrastructure backs the quality of our service. In addition, we have access to state-of-the-art technology and tools to help innovate your offshore development project.
Guaranteed Customer Support 24/7
Our team handles every minute detail to ensure the smoothest run for your project. We have dedicated members focused at all times on project management, marketing, sales, and customer support for immediate resolution of any kinks and bottlenecks in the project line-up.