BIM, or Building Information Modeling, is a complicated process that entails creating and managing a digital model of a construction project or facility. To create a digital reach 3d model, BIM requires various techniques and technology. STAMOD will connect you to the best BIM outsourcing service so that you achieve a higher grasp of space and data while improving workflow efficiency and speed, as well as decreasing field-related and safety issues.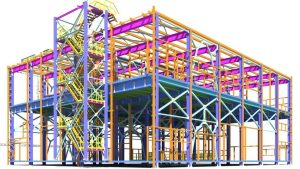 Our Range of Expertise
STAMOD takes a customer-centric approach to improve the information flow between these elements while focusing on long-term, sustainable, and painless maintenance. STAMOD is a significant provider of outsourcing of Building Information Modeling services, offering the following services:
Mechanical BIM
Our partners have mechanical BIM experts with extensive experience and competence in using the most up-to-date BIM modeling applications like AutoCAD, Revit MEP, MicroStation, etc. They deliver high-quality services at cost-effective prices to give you the best value for your money.
BIM 5D Cost Estimation
We connect you with highly realistic and dependable BIM 5D cost estimation services for your construction project. Bid cost estimation services, project risk analysis services, quantity take-off estimation services, material cost escalation services, and cost-loaded scheduling services are just a few of the services we provide.
BIM Component Creation
STAMOD BIM Component creation outsourcing services include geometry modeling, component modeling, BIM component creation, and component databases.
Laser Scan to BIM
We ensure that our partners deliver accurate 3D models created by converting laser scans to BIM models. Our services include converting raw data from laser scans to 3D BIM models, designing and constructing BIM models using point cloud data.
BIM App Development
We offer various BIM app development services, including corporate process automation apps, BIM software modification, and Dynamo BIM creation, among others.
BIM Model Auditing
We offer various BIM app development services, including corporate process automation apps, BIM software modification, and Dynamo BIM creation, among others.
BIM Execution Planning
We can provide you with firm BIM execution planning services, including BIM action plan design, assessing information requirements using BIM, and planning BIM execution across your company, as one of India's leading BIM outsourcing firms.
BIM Clash Detection
At STAMOD, we assist you in BIM clash detection outsourcing services. We help you in identifying and resolving any flaws in your BIM model. Hard clash detection, soft clash detection, and MEP inspections are some of our services.
Architectural BIM
Choosing to engage architectural BIM specialists for modest projects can squander funds that could be utilized to acquire technology and grow your company. This is why, when you employ complicated functions such as BIM clash detection service providers like us, you have specialists behind the wheel on a project-by-project basis to accomplish tasks at a faster rate and a reduced cost.
6D BIM Modeling
STAMOD's 6D BIM modeling solutions include energy simulation modeling and 6D facility management services.
BIM Coordination
The comprehensive BIM coordination checks ensure that all BIM components and design aspects are in working order. Constructability studies, BIM coordination services, and 4D coordination checks are some of the services we provide.
BIM Quantity Estimation
We provide powerful BIM quantity estimate services, such as billing support with BIM, bar bending scheduling with BIM and cost analysis to help our clients execute their projects on schedule and budget.
BIM and 3D Virtual Reality
STAMOD's BIM and 3D virtual reality services include producing incredibly realistic representations, delivering dynamic graphics, and improving design intent.
BIM for Facility Management
We work with our clients to improve their buildings' comfort, energy efficiency, and productivity. Access to asset profiles and increased understanding of object placements are among the BIM services we provide for facility management.
Electrical BIM
We provide end-to-end electrical BIM solutions for your project, including data-driven 3D models of electrical systems, in collaboration with our partners. Our services can help you assess the viability of your electrical design.
BIM Energy Modeling
STAMOD provides the experience, ability, abilities, and resources to offer high-quality BIM energy modeling services at a reasonable cost. We can simulate the energy elements of a wide range of spaces, including homes, malls and stores, showrooms, hotels and resorts, office cabins and workstations, and more.
The STAMOD Advantage
STAMOD provides the experience and resources to provide high-quality BIM energy modeling services at a reasonable cost.
With STAMOD on board, you can expect more remarkable results, higher quality, and project optimization.
We give you highly reliable BIM execution planning services as one of India's leading BIM outsourcing firms.
Why Choose STAMOD to Outsource Building Information Modelling
High-Quality Service
At STAMOD, we strive to provide 100% error-free and high-quality service in three different models. We work on the production and design to ensure your building information modeling reach completion without bottlenecks or time lags. Our outsourcing services outfit your project with embedded staff onsite at the Original Equipment Manufacturer (OEM) locations.
Fast Turnaround Times
We have a global infrastructure of companies and delivery centers to ensure that we provide the fastest turnaround time without compromising the quality of our building information modeling.
Highly Qualified Team
Our team comprises industry experts with 100+ person-hours of experience, with proficiency in practical production and theoretical design knowledge.
Global Infrastructure
STAMOD works with invested companies and partners across India, Malaysia, the Philippines, Indonesia, Sri Lanka, and Thailand.
Dedicated Point of Contact
When you trust STAMOD to outsource your BIM services to us, we immediately assign a dedicated project manager as the SPOC for clear communication and seamless management of the collaboration from the very first day until the project completion.
Scalable Service Packages
At STAMOD, we pride ourselves on providing flexibility of service. As a result, we can scale our team and infrastructure to adapt to the demand of your BIM outsourcing project.
Innovative Technology Access
The standard of our infrastructure backs the quality of our service. In addition, we have access to state-of-the-art technology and tools to help innovate your BIM Services.
Guaranteed Customer Support 24/7
Our team handles every minute detail to ensure the smoothest run for your project. We have dedicated members focused at all times on project management, marketing, sales, and customer support for immediate resolution of any kinks and bottlenecks in the project line-up.