Jigs & Fixture
Jigs and fixtures are essential tools for starting an in-house product manufacturing business. They help to eliminate waste like waiting time, defects, and over-processing. You can begin with simple jigs and fixtures for small batches or simple products, But Jigs and fixtures can be more complex and expensive for high-precision products or mass production. STAMOD uses three types of tool bodies for jigs and fixtures: cast tool, welded tool, and built-up tool body. Each of these tool bodies can build and design jigs and fixtures more quickly and efficiently.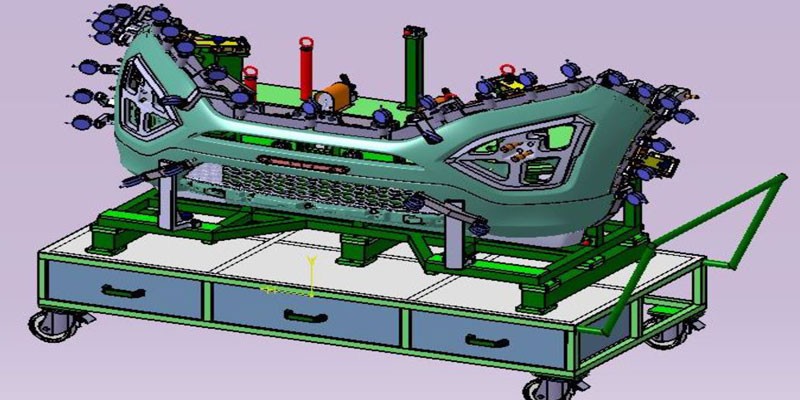 What We Offer
STAMOD has built several Jigs & Fixtures for Automotive components. We have expertise in designing the fixtures for prototype & production. We have developed 5000+ Jigs & Fixtures for conventional machines to CNC. In addition, we have designed Jigs & Fixtures for Casting, Forging & Fabricated parts. We have also created Custom gauges, Check aids, Inspection fixtures & Assembly fixtures.
Mechanical engineering
We assist in developing products that already have a physical form and are available on the market. It is impossible to prepare a product for mass production without testing it. To improve the viability of your future product development, our mechanical engineers design small details, improve layouts of main assemblies, and use nonstandard solutions for the prototype.
Rapid prototyping
We provide new information when testing hypotheses and find out-of-the-box solutions faster with rapid prototyping. In addition, it saves money on tooling for products made of plastics. Rapid prototyping also creates nonstandard fixtures for testing products.
Manufacturing Support & Sourcing
If you have completed the design and want to begin mass-producing, we can recommend a production company. To communicate with the manufacturer and resolve quality issues, we will assign an engineering team specializing in manufacturing.
Low Volume Manufacturing
STAMOD is prepared to assist you with small-batch manufacturing. Low-volume production is susceptible to used equipment and tooling, cost of goods sold, and lead time. STAMOD can assist you in preparing the first small batch, manufacturing hundreds of PCBAs, assembling products, and testing them before shipment.
Design for Manufacturing (DFM)
CAD file preparation is a standardized procedure. The various numbers in your product's technical documentation could significantly impact the necessary equipment and tooling, COGS, and lead time.
Reverse Engineering
Using RE has vast benefits for any product design firm. If you plan your budget systematically, you can avoid reinventing the wheel by using RE for product development. However, RE is not a good idea for a product's primary functions. In this case, your product risks falling behind your competitors all the time.
Why Choose STAMOD to Outsource Jigs & Fixtures Services?
High-Quality Service
At STAMOD, we strive to provide 100% error-free and high-quality service in three different models. We work on the production and design to ensure your Jigs & Fixtures services reach completion without bottlenecks or time lags. Our outsourcing services outfit your project with embedded staff onsite at the Original Equipment Manufacturer (OEM) locations.
Fast Turnaround Times
We have a global infrastructure of companies and delivery centers to ensure that we provide the fastest turnaround time without compromising the quality of our Jigs & Fixtures design and development services.
Highly Qualified Team
Our team comprises industry experts with 100+ person-hours of experience, with proficiency in practical production and theoretical design knowledge.
Global Infrastructure
STAMOD works with invested companies and partners across India, Malaysia, the Philippines, Indonesia, Sri Lanka, and Thailand.
Dedicated Point of Contact
When you trust STAMOD to outsource your Jigs & Fixtures services, we immediately assign a dedicated project manager as the SPOC for clear communication and seamless management of the collaboration from the very first day until the project completion.
Scalable Service Packages
At STAMOD, we pride ourselves on providing flexibility of service. As a result, we can scale our team and infrastructure to adapt to the demand of your Jigs & Fixtures outsourcing project.
Innovative Technology Access
The standard of our infrastructure backs the quality of our service. In addition, we have access to state-of-the-art technology and tools for Jigs & Fixtures production and design.
Guaranteed Customer Support 24/7
Our team handles every minute detail to ensure the smoothest run for your project. We have dedicated members focused at all times on project management, marketing, sales, and customer support for immediate resolution of any kinks and bottlenecks in the project line-up.