STAMOD can handle any coating requirements you have, even if they are part of a more complicated contract manufacturing process. The key to Liquid Coating is adaptability. However, we at STAMOD feel that quality is just as vital. Therefore, whether you need paint/liquid coating or powder coating solutions as part of a complete outsourced contract manufacturing process, we share your dedication and never make compromises when your reputation is on the line.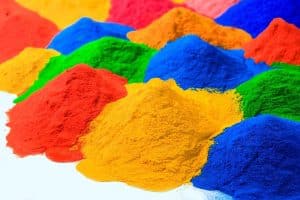 What We Offer
We are experts at precision masking and detailing services. STAMOD has the equipment, the logistics, and the expertise to create the most appropriate solution for you.
Paint Coating
We offer Paint Finishing at STAMOD, a superior application for unique demands, such as when your process requires faster color changes or a more comprehensive range of colors. Our process controls and regular maintenance programs ensure that the liquid coating on your completed items is of the highest quality.
Powder Coating
Powder coating involves applying dry powders to metal surfaces to create continuous and integrated coatings. It is a feasible and cost-effective commercial alternative to traditional industrial liquid paints, reducing cycle time and costs. We ensure that there is no waste of solvent and no pollution of the air or environment because over-sprayed powder may be recovered, ensuring that no powder escapes into the atmosphere. In addition, significant progress has been achieved in lowering the heavy metal concentration of powders, particularly lead.
Why Choose Stamod to Outsource Paint And Powder Coating?
High-Quality Service
At STAMOD, we strive to provide 100% error-free and high-quality service in three different models. We work to ensure your paint and powder coating services reach completion without bottlenecks or time lags. Our outsourcing services outfit your project with embedded staff onsite at the Original Equipment Manufacturer (OEM) locations.
Fast Turnaround Times
We have a global infrastructure of companies and delivery centers to ensure that we provide the fastest turnaround time without compromising the quality of our paint and powder coating services.
Highly Qualified Team
Our team comprises industry experts with 100+ person-hours of experience, with proficiency in practical production and theoretical design knowledge.
Global Infrastructure
STAMOD works with invested companies and partners across India, Malaysia, the Philippines, Indonesia, Sri Lanka, and Thailand.
Dedicated Point of Contact
When you trust STAMOD to outsource your paint and powder coating services, we immediately assign a dedicated project manager as the SPOC for clear communication and seamless management of the collaboration from the very first day until the project completion.
Scalable Service Packages
At STAMOD, we pride ourselves on providing flexibility of service. As a result, we can scale our team and infrastructure to adapt to the demand of your paint and powder coating outsourcing project.
Innovative Technology Access
The standard of our infrastructure backs the quality of our service. In addition, we have access to state-of-the-art technology and tools for paint and powder coating service.
Guaranteed Customer Support 24/7
Our team handles every minute detail to ensure the smoothest run for your project. We have dedicated members focused at all times on project management, marketing, sales, and customer support for immediate resolution of any kinks and bottlenecks in the project line-up.