STAMOD has been instrumental in forging industry standards for Plastic injection mold designing. Therefore, we do not expect our clients to adhere to pre-made service packages. In fact, at STAMOD, we proudly adapt to the client's requirements to constantly customize our service to meet their immediate needs.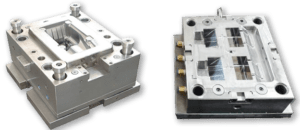 What We Offer
Improved efficiency, increased production speed, or better waste management, whatever it is that you need to enhance your plastic molding process, STAMOD has you covered. Plastic injection molding is a skill-centric field. If you want to move ahead with innovation in this field, you need experienced and skilled professionals in your corner. Improve your plastic injection molding process with a team comprised explicitly of talented professionals qualified in plastics design and production services. STAMOD assists an experienced team together with access to cutting-edge technology and dedicated project management services. We are ready to simplify and enrich the production experience for your next plastic molding project.
Plastic Production
We have experience in handling processing with thermoplastic and thermosetting plastic. We have worked with a wide variety of materials, including but not limited to polystyrene, polypropylene, ABC, PVC, and Polyethylene. Our range of knowledge covers the production of intricate parts and superior-quality molded plastic, at tight tolerances. We apply our experience to steer the output at a minimum cost. We are prepared to handle the most common kinks in plastic products including parts warpage, superficial imperfections, unequal filling due to malfunctioning injection strokes, and burned plastic parts.
Mold Design and Modification
We strictly adhere to industry-acknowledged guidelines for the uniformity of minimum wall thickness along the part to reduce the number of run cycles, the tendency of defects, and a guarantee of low shot weight. This process helps ease the withdrawal of the completed plastic parts from the industrial molds without hampering the stiffness of the parts. Our experienced designers work with the most updated CAD/CAM software and handle CATIA, SOLIDWORKS, and PRo-E. We offer mold prototype designs and reverse engineering services for modifications to your existing molds. We use the most high-end technology for the regeneration and modification of existing molds, including 3D laser scanners, Rapid form XOR, and Rapidform XOV to build and manipulate the Geometry and Point Cloud data.
Mold Flow
We help you optimize your materials usage and process parameters by conducting extensive mold flow analysis. Our comprehensive analysis processes help optimize the gate location, checking the cooling circuitry and the functioning of the feed system. We also use data from the analysis reports to help predict the defects and warpage and create projected suggestion reports to prevent or overcome the issues. Through mold flow analysis, STAMOD engineers can accurately predict the behavior of your processed plastic materials through each step of the design parameters and process conditions.
Why Choose STAMOD to Outsource Plastic Injection Molding Service?
High-Quality Service
At STAMOD, we strive to provide 100% error-free and high-quality service in three different models. We work on the production and design to ensure your plastic injection molding services reach completion without bottlenecks or time lags. Our outsourcing services outfit your project with embedded staff onsite at the Original Equipment Manufacturer (OEM) locations.
Fast Turnaround Times
We have a global infrastructure of companies and delivery centers to ensure that we provide the fastest turnaround time without compromising the quality of our plastic injection mold design and development services.
Highly qualified team
Our team comprises industry experts with 100+ person-hours of experience, with proficiency in practical production and theoretical design knowledge.
Global Infrastructure
STAMOD works with invested companies and partners across India, Malaysia, the Philippines, Indonesia, Sri Lanka, and Thailand.
Dedicated Point of Contact
When you trust STAMOD to outsource your plastic injection mold services, we immediately assign a dedicated project manager as the SPOC for clear communication and seamless management of the collaboration from the very first day until the project completion.
Scalable Service Packages
At STAMOD, we pride ourselves on providing flexibility of service. As a result, we can scale our team and infrastructure to adapt to the demand of your plastic injection mold outsourcing project.
Innovative Technology Access
The standard of our infrastructure backs the quality of our service. In addition, we have access to state-of-the-art technology and tools for plastic injection mold production and design.
Guaranteed Customer Support 24/7
Our team handles every minute detail to ensure the smoothest run for your project. We have dedicated members focused at all times on project management, marketing, sales, and customer support for immediate resolution of any kinks and bottlenecks in the project line-up.