Manufacturing services:
The purpose of press tools is to mass-produce a specific component out of sheet metals, with the press tool's construction and configuration determining the component's success. The various designs of press tools enable a wide variety of tasks. Sheet metal components are created using custom-built press operating equipment. STAMOD engineers and team members are re-trained on a regular basis, and its extensive technical and support services integrate years of experience with outstanding designing, re-designing, and prototyping.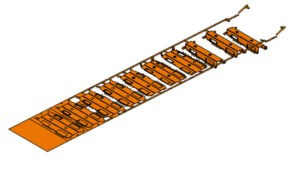 What We Offer
STAMOD excels in Forming Dies, Cam Dies, Progressive Dies, and Prototype and Production press tool dies. We assist in designing and manufacturing complex die designs with tight tolerances, allowing the production of 3D net-shaped parts. You can complement our combined knowledge and experience to create an excellent, refined project by partnering with STAMOD Engineering. We offer the following essential tool design and engineering services:
High-Quality Service
We assist you in determining the feasibility of your design and addressing any vulnerabilities or flaws. In addition, our advanced design skills enable us to help you at every stage of the design process.
Analysis of Punch
When a punch gets into contact with a material, it performs two functions: cutting and forming. For accurate performance, we consider factors with all punches: compound die, material selection, die design, Modeling (2D & 3D), cost estimation, punch analysis, etc.
AutoCAD and 3D Modeling
We use our CAD (computer-aided design) software with Diemaker to create stamping dies quickly and efficiently.
Reverse Engineering
You may not have access to your original product design for any reason. In such a case, we thoroughly analyze your current component and reverse the process to arrive at the initial design to be manufactured.
Prototype Development
When the designing stage is completed, the prototyping stage begins. We assist you in developing and testing prototypes for functionality and modifications before the start of large-scale production.
Rapid prototyping
We provide new information when testing hypotheses and rapid prototyping allows us to find out-of-the-box solutions faster. Furthermore, it saves money on tooling for plastics-based products.
Analyzing Manufacturability
We review the design you present and work with you to identify cost-cutting opportunities to ensure that it is compatible with the industrial manufacturing process.
Why Choose STAMOD to Outsource Press Tool Design Services?
High-Quality Service
At STAMOD, we strive to provide 100% error-free and high-quality service in three different models. We work on the production and design to ensure your press tool services reach completion without bottlenecks or time lags. Our outsourcing services outfit your project with embedded staff onsite at the Original Equipment Manufacturer (OEM) locations
Fast Turnaround Times
We have a global infrastructure of companies and delivery centers to ensure that we provide the fastest turnaround time without compromising the quality of our press tool design and development services.
Highly Qualified Team
Our team comprises industry experts with 100+ person-hours of experience, with proficiency in practical production and theoretical design knowledge.
Global Infrastructure
STAMOD works with invested companies and partners across India, Malaysia, the Philippines, Indonesia, Sri Lanka, and Thailand.
Dedicated Point of Contact
When you trust STAMOD to outsource your press tool design services, we immediately assign a dedicated project manager as the SPOC for clear communication and seamless management of the collaboration from the very first day until the project completion.
Scalable Service Packages
At STAMOD, we pride ourselves on providing flexibility of service. As a result, we can scale our team and infrastructure to adapt to the demand of your press tool outsourcing project.
Innovative Technology Access
The standard of our infrastructure backs the quality of our service. In addition, we have access to state-of-the-art technology and tools for press tool design.
Guaranteed Customer Support 24/7
Our team handles every minute detail to ensure the smoothest run for your project. We have dedicated members focused at all times on project management, marketing, sales, and customer support for immediate resolution of any kinks and bottlenecks in the project line-up.