By leveraging our software development services, we assist our partners in expediting disruption both within their firms and across sectors, resulting in actual business value. From concept to code, development to deployment, our software development solutions speed up workflows, increase revenue, and improve business operations.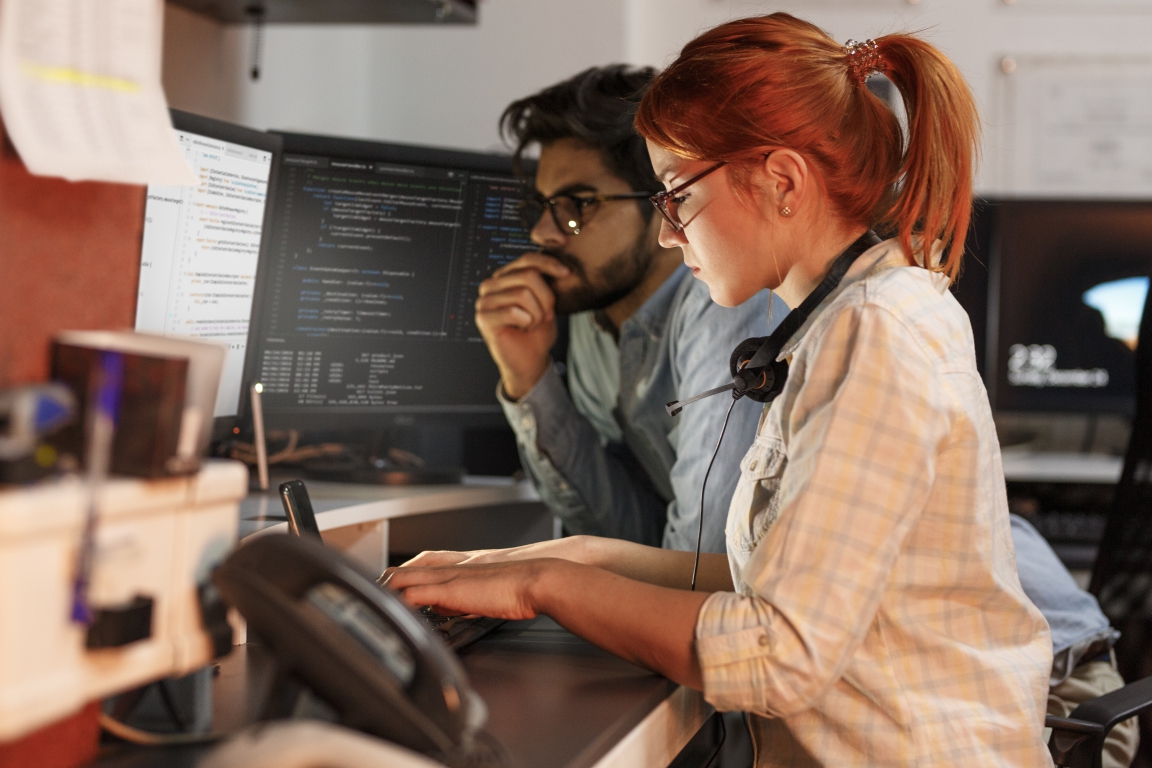 Our Range of Expertise
STAMOD provides full-cycle software development services that adapt smoothly to your project requirements and business demands, from IT strategy consulting and detailed technological roadmaps to end-to-end development of scalable solutions.
Custom Software Development
We have pioneered and have rich expertise and knowledge of customized software development from insurance to investment banks, publishing to multimedia, travel to e-commerce, and material science to surface science.
Technologies
STAMOD is a significant provider of cutting-edge software development technology to a diverse client base worldwide. We use the most up-to-date and tried-and-true technologies on the market.
Web Application Development
STAMOD's web app developers are well-versed in the best strategies for speeding up and minimizing latency in mobile web app projects.
Mobile Application Development
STAMOD focuses on developing reliable and high-quality mobile applications. We offer services in every industry, vertical, and area.
Digital Marketing
We provide clients with practical and high-quality digital marketing services following a logical and straightforward plan.
Software Testing Solutions
STAMOD's quality software testing services ensure that your company's software testing solutions are robust, scalable, and effective.
Database Services
We build precise strategies and database engine performance solutions to remodel business dynamics in real-time conditions and focus on other vital functions.
IT Staffing Services
STAMOD specializes in all forms of technological staffing requirements, serving clients' needs worldwide and assisting in the quick acquisition of the hard-to-find IT world.
Infrastructure management
We offer an extensive global clientele base with our remote infrastructure management services across many industrial verticals, thanks to our decades of experience.
Enterprise Solutions
SAP Support Services, Microsoft Dynamics, Azure Application Development, CMS, CRM, SCM, Salesforce Application Development, and other services are part of our Enterprise Business Solution.
Web analytics
We know the most up-to-date web analytics tools and can build a customized software solution for you.
Industries
STAMOD offers a comprehensive set of software development services and solutions to clients in a variety of industries all around the world.
Artificial Intelligence (AI) Consulting
STAMOD's Artificial Intelligence services can help you accelerate the intellectual growth of your workflows, technology, and the whole company.
The STAMOD Advantage
We use best practices and development methodologies as a framework for the systematic and organized development of cutting-edge technology solutions.
We create robust digital solutions that promote significant change with a strategic vision, leveraging the deep domain experience of our software developers.
STAMOD has evolved into a global software engineering competitor with broad knowledge in all areas required for a reliable software development service.
Why Choose STAMOD to Outsource Software Development Services
High-Quality Service
At STAMOD, we strive to provide 100% error-free and high-quality service in three different models. We work on production and design to ensure software development services reach completion without bottlenecks or time lags. Our outsourcing services outfit your project with embedded staff onsite at the Original Equipment Manufacturer (OEM) locations.
Fast Turnaround Times
We have a global infrastructure of companies and delivery centers to ensure that we provide the fastest turnaround time without compromising the quality of our software development.
Highly Qualified Team
Our team comprises industry experts with 100+ person-hours of experience, proficiency in practical production, and theoretical design knowledge.
Global Infrastructure
STAMOD works with invested companies and partners across India, Malaysia, the Philippines, Indonesia, Sri Lanka, and Thailand.
Dedicated Point of Contact
When you trust STAMOD to outsource your software development service to us, we immediately assign a dedicated project manager as the SPOC for clear communication and seamless management of the collaboration from the very first day until the project completion.
Scalable Service Packages
At STAMOD, we pride ourselves on providing flexibility of service. As a result, we can scale our team and infrastructure to adapt to the demand of your software development outsourcing project.
Innovative Technology Access
The standard of our infrastructure backs the quality of our service. In addition, we have access to state-of-the-art technology and tools to help innovate your software development.
Guaranteed Customer Support 24/7
Our team handles every minute detail to ensure the smoothest run for your project. We have dedicated members focused at all times on project management, marketing, sales, and customer support for immediate resolution of any kinks and bottlenecks in the project line-up.