If you want to streamline your prototyping processes and reduce the costs associated with each phase of production, one tool can help "the progressive die." They are precious to manufacturers who require a quick turnaround of parts and components during the design process. This guide on progressive dies and their uses throughout the manufacturing process will interest businesses looking to improve their manufacturing processes.
What is a progressive die?
A progressive die is a tool with a series of dies designed sequentially to form a product. These dies are made from different materials and configured for specific purposes, such as prototype parts manufacturing. Progressive stamping dies are perfect for creating custom pieces because it allows you to create long runs of the same item using one piece of tooling. The use of stamping dies is all you need for all your prototype parts manufacturing needs, including prototyping mold components, sheet metal fabricating, deep drawing, etc. Progressive dies provide an efficient die stamping process that creates prototypes, large-gauge metal parts, and micro-miniature parts.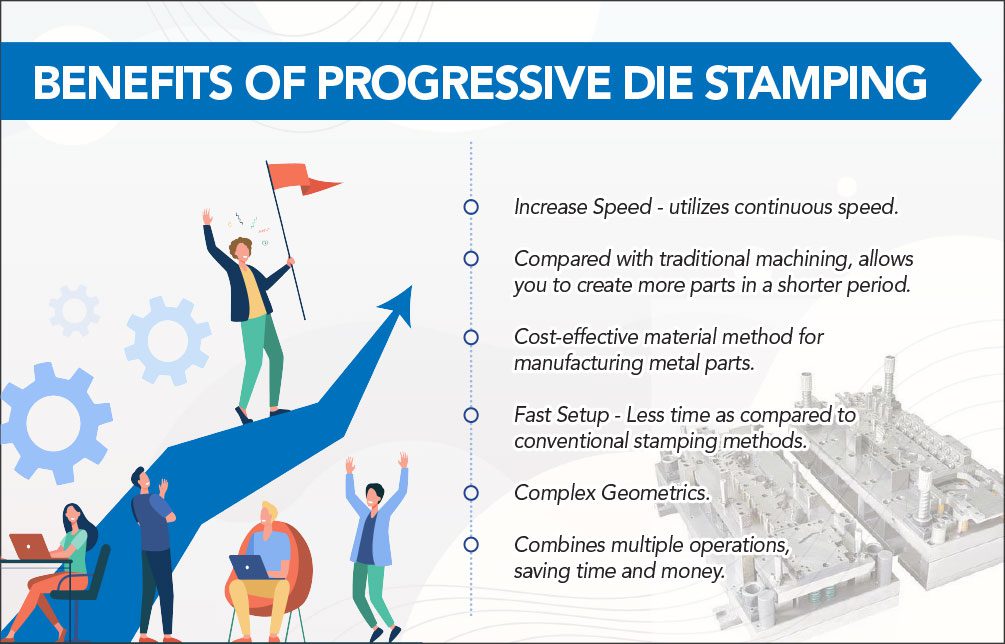 Things to consider before purchasing a progressive die
How your progressive dies will function is essential before purchasing them to know what size will work best for your project. Knowing about die and progressive dies is crucial before purchasing one for your prototype parts manufacturing needs. The most important consideration when buying a die is whether it is right-hand or left-hand. Progressive dies are designed for production efficiency, while traditional dies are intended for one-piece-at-a-time production efficiency. A progressive tool design die would be best if you want to produce many parts in a production run using a die. This die will do the job well when cutting by hand or needing precision cutting without bending.
STAMOD progressive die services
The world's leading companies have used Stamod's progressive die services to manufacture high-quality prototype parts and production tooling. The STAMOD Progressive Die process is a cost-effective, reliable, and rapid solution to your precision metalworking needs.
STAMOD provides quality craftsmanship, dependability, and accuracy responsiveness to meet the needs of any size project. The progressive die is a one-tool-fits-all precision metalworking solution with the most affordable rates. Our team delivers a complete line of progressive presses.
How does Stamping die work?
Manufacturing firms looking for engineering designs can find just what they need when they turn to progressive die stamping. A stamping die is a tool that can produce various forms and shapes with little time and effort. They can create the custom shape or form you need in just one pass through the machine, meaning there will be no more secondary work after the initial manufacturing process.. The injection molding technique is perfect for creating the custom shape & form without going through any additional operations. The same machine used to make your part also becomes your mold, which is why it saves so much time!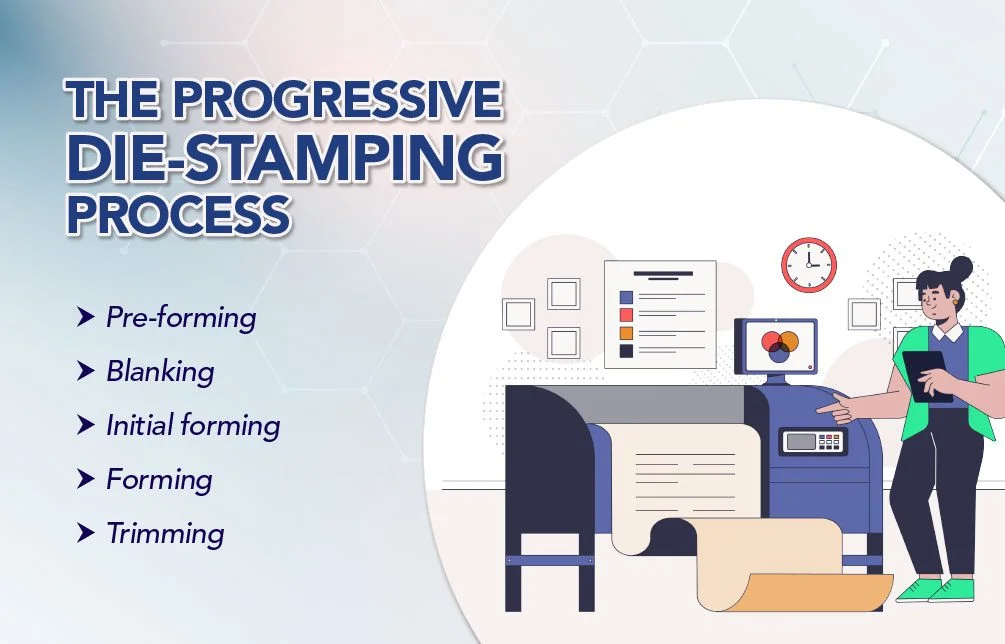 Advantages: Progressive Die Stamping
Progressive die stamping refers to a metalworking process with many benefits. For example, the precision and complexity of parts manufactured with stamping dies are unmatched by any other method. As a result, manufacturing firms looking for engineering designs can come to us knowing that we can manufacture the final product using our experience in progressive die stamping. Additionally, this process allows you to create prototypes quickly and inexpensively without sacrificing quality or precision, something other manufacturing processes cannot offer.
The many uses of progressive die stamping
With many uses, progressive die stamping is a versatile tool for the modern metalworking industry.
For automotive, electronics, or aerospace industries, progressive die stamping is the right choice for quickly and precisely manufacturing prototype parts. The type of material that can be stamped and formed by this process also depends on the desired application. Suppose you want to create automotive components from aluminum or stainless steel. In that case, you will need to invest in stamping dies equipment designed to handle these materials specifically. The properties of each type of metal dictate; the tools necessary for efficient production—titanium die. For instance, it is not helpful for steel-based products. However, this does not state that it will not produce aluminum products such as utensils or food containers. The ability to manufacture different metals within one machine saves space and money.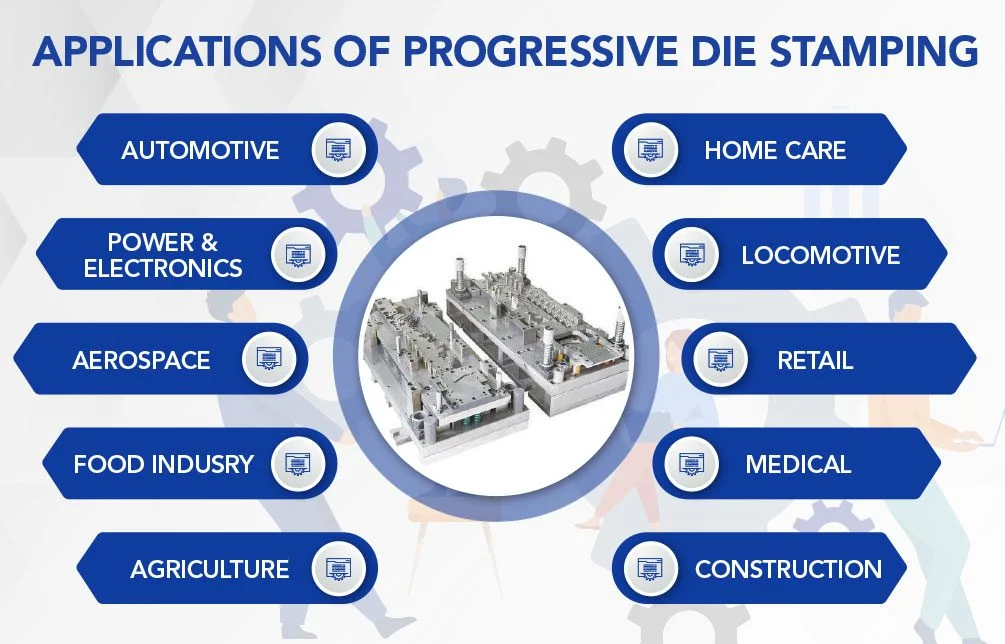 Want to find the perfect progressive dies for your next project? Choose STAMOD.
At STAMOD, we aim for 100% error-free and high-quality service – in three different models. First, we handle production and design to ensure that your stamping dies services are completed on time and without pitfalls.
With our outsourced services, your project is graced with internal, embedded staff.
We have a global infrastructure of companies and delivery centers to ensure that our customers get fast turnaround times without sacrificing the quality of our stamping dies product.
Our team comprises industry experts with over 100 hours of experience, complemented by practical knowledge about production and theoretical design principles.
With investments in India, Malaysia, the Philippines, Indonesia, Sri Lanka, and Thailand, STAMOD works with companies across these countries. To optimize customer satisfaction, we scale our size on demand for refined die-stamping products.
Final thoughts
Prototype parts manufacturing can be costly and take up too much time, but with stamping dies technology and advanced tool design, it can be more seamless.
Many metalworking industries are now using stamping dies to simplify production and enhance efficiency by changing how they work with materials. The power of the Progressive die comes from its ability to create complex shapes from a single blank at any stage in its progression.