Planning to hire web developers for your project can be one of your most critical team-building decisions. The right professional will help elevate the team performance and create a more pleasant customer experience. Both of these features can directly impact the overall profit margin and operations of your company.

In fact, with consumers progressively shifting towards mobile devices to access their online information, it has directly impacted the expectations from website performances.
Why Is It Important to Hire Web Developers
Studies have proven now that increased responsiveness and speed can directly translate into increased revenue for your websites, proving the point that hiring the right web developer for your team is non-negotiable.
Having said that, the size and sophistication of your project are critical determining factors. For instance, do you need to add a few pages to an existing website? Or, do you need a more challenging cloud integration for your consumer web service? These are just some examples of the range of demands that will lead to your final decision when you hire a web developer. Whether you need to hire a web developer or recruit a dedicated team for web development depends on your project's demands.
However, if you do not yet know the entire scope of your project, do not worry. This guide will help you deal with each decision one step at a time. So let us dive right in!
1. Outline your project requirements
As explained already, the project requirements will be the highest determining factor when hiring web developers. Therefore, break down the limits of your project within this outline. For example, if your primary requirement is building a custom website, outline the number of pages, the custom features, and the specific functionalities that will be a part of your project.
Not all websites are equal. By its definition, even Google is just a website too. However, it is operated at a massive scale with a budget spanning several millions of dollars. There is simply no comparison possible between two projects just within the definition of the term website. So, defining the full scope of your web project is the first step, and that will help chalk out your plan to hire software developers and web developers to support the successful execution of that project.
2. Craft a transparent job description to hire web developers
Now you know the kind of talent that you have to hire to accomplish your project, move on to crafting an accurate description of the job profile. Make sure the job description spells out everything that you expect your developers to be able to handle. Including mockups or samples of the type of features, you prefer in your app project will help clarify your project expectations. This way, when you hire app developers or include freelancers within your team, they approach the project with a clear understanding of your preferences and dislikes.
Include the features that are non-negotiable for your project. List the details of what the position offers and the project's scope in clear terms so there is no confusion.
3. Prioritize competence over skills
When you hire remote developers, design the job interview to test competence levels at par with the developer's skill sets. Clear communication is a top priority in a remote setting or when bringing in a new member to an existing development team. A dedicated professional can further improve their skills while working with the project. Still, the ability to think fast on their feet and adapt to different project phases might not be as simple.

Design the interview to test the prospective developers on their key characteristics. For example, ask them about how they train to keep advancing with the current changes in their field of technology. Include cognitive testing to understand their ability to identify the issues with the project and apply problem-solving skills to resolve them.
Look at their past projects and discuss them to understand the developer's decision-making process better. Apart from their portfolio, design a skill test to check their working style and skill levels to compare to your project requirements.
4. Set a clear timeframe and budget to hire web developers
It would be best to have a clear idea of your overall project budget. Also, how much of it is allocated to hire a web developer. Also, make sure an estimated timeframe for the project is in place even before you start the interview process. The budget will have a significant impact on whom you hire ultimately from your pool of applicants. However, to avoid having awkward discussions at the later stages of the interview, it is best to be clear about the budget for the position right from the job description.
Also, having a set timeframe for the project makes it possible for the developer to start within a structured schedule. Discuss the project timeline with your applicant at the very beginning of the interview, so they have realistic expectations. Then, if hired, they should be ready to hit the ground running to adapt to the project at its current phase.
5. Find a trusted outsourcing partner
If the scale of your project requires you to hire a web development team at short notice, do not worry, this is still a workable objective. You have to adjust your strategy to find a reliable outsourcing team to collaborate with you for your project. However, the rules for the selection still broadly remain the same.
You have to test for previous projects and skills.
Check for valid certifications like ISO certifications.
Ask them about the benefits that they offer, including lifetime customer support, on-time delivery guarantees, assurance for quality level, and advanced data security.
Do they offer a relationship manager or project representative who will help collaborate with your in-house team to guide the project through the different phases of the execution?
Having an outsourcing team will help you relegate your project in multiple stages. One significant advantage of hiring an outsourcing team is having highly qualified professional web developers trained to work together. This way, you will not need to waste time interviewing individual developers to hire, especially when you are short on time.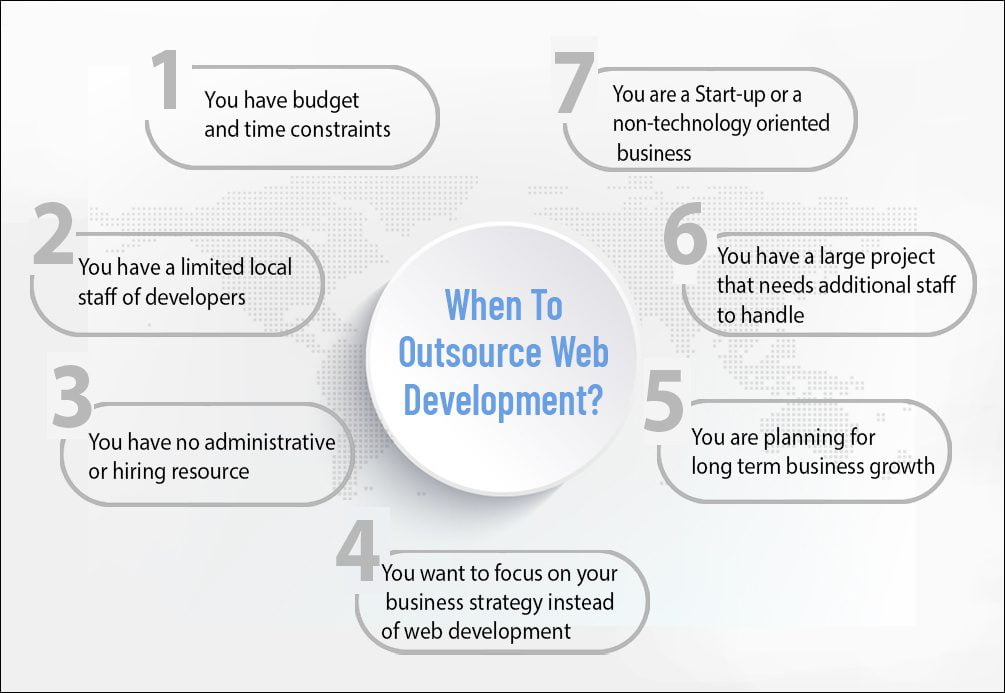 Adding an outsourcing partner to your medium to large-scale projects will boost the total management while preventing bottlenecks and delays. Associating with a certified outsourcing partner will enforce the security of your confidential data. Experienced teams will have better communication transparency. They will also add value with their skill sets to help you successfully achieve your project goals.
Conclusion
Any hiring decision you make for your project comes with its own set of risks. However, you can cut back on these risks by a wide margin. All you have to do is strategically plan your hiring process according to the above-mentioned points. First, understand your project requirements and prioritize them according to their importance. Then, make the choice that eases the project management the most without compromising on the project value.