India remains unrivaled as a sizeable professional talent pool and skilled human resources. Each year, Indian universities and professional institutions churn out a crew of 3.1 million graduates and over 300,000 postgraduates roughly. What makes IT outsourcing India such a credible market is the infusion of young talent in this industry. A considerable proportion of the population is comprised of Millenials and generation Z. They are young, creative, and talented. On top of it, they are also professionally trained from some of the finest universities in the world. Their talent range can help support businesses across various industries like eCommerce, healthcare, manufacturing, and engineering services.
Despite emerging competition from places like Europe, Latin America, or other Southeast Asian regions, India is still the preferred option for IT outsourcing. IT outsourcing is merely the process in which external, third-party service providers execute various IT-related business operations for a company's business outcome.
Why outsourcing to India is a smart business move?
In a recent survey, experts established that more than 80% of American and European Outsourcing firms preferred to have India as their outsourcing destination instead of other countries offering the same services. The primary reason for this result is that India has an incredibly skilled workforce that constantly endeavors to improve itself. Secondly, government policies are extremely conducive by the various IT outsourcing companies. Finally, India has a fast-paced, modern infrastructure, making it the obvious choice for companies looking for other countries to outsource their various IT tasks.
How far do statistics support your decision to outsource your business projects to India?
It is astounding to note that the global outsourcing market was worth over 92.5 billion in 2019.
A recent survey showed that 70% of the companies that outsource do so to cut costs, and the United States of America outsources over 300,000 jobs annually. In India, experts estimated the outsourcing market at a whopping 5,649.47 billion INR in the year 2019. It is estimated that the IT outsourcing market in India will have an estimate of over 8000 billion INR in the coming years.
According to Deloitte's 2021 Global Shared Services and Outsourcing Survey, 65% of successful business organizations include shared services and outsourcing in their project delivery model.
Recently, in Gartner's study-based forecast, the valuation of the global IT outsourcing market was set at USD 270 billion in 2020 and predicted to grow by 23.1% to USD 332.3 billion in 2021 and up to an estimated USD 397.4 billion by 2022.
In the latest report by Reportlinker, the IT market is predicted to reach over USD 425.19 billion by 2026, registering a CAGR of 45%within these 5 years.
A recent research report from Allied Market Research has predicted that the Managed security services and cybersecurity outsourcing market are all set to reach over USD 41 billion by 2022.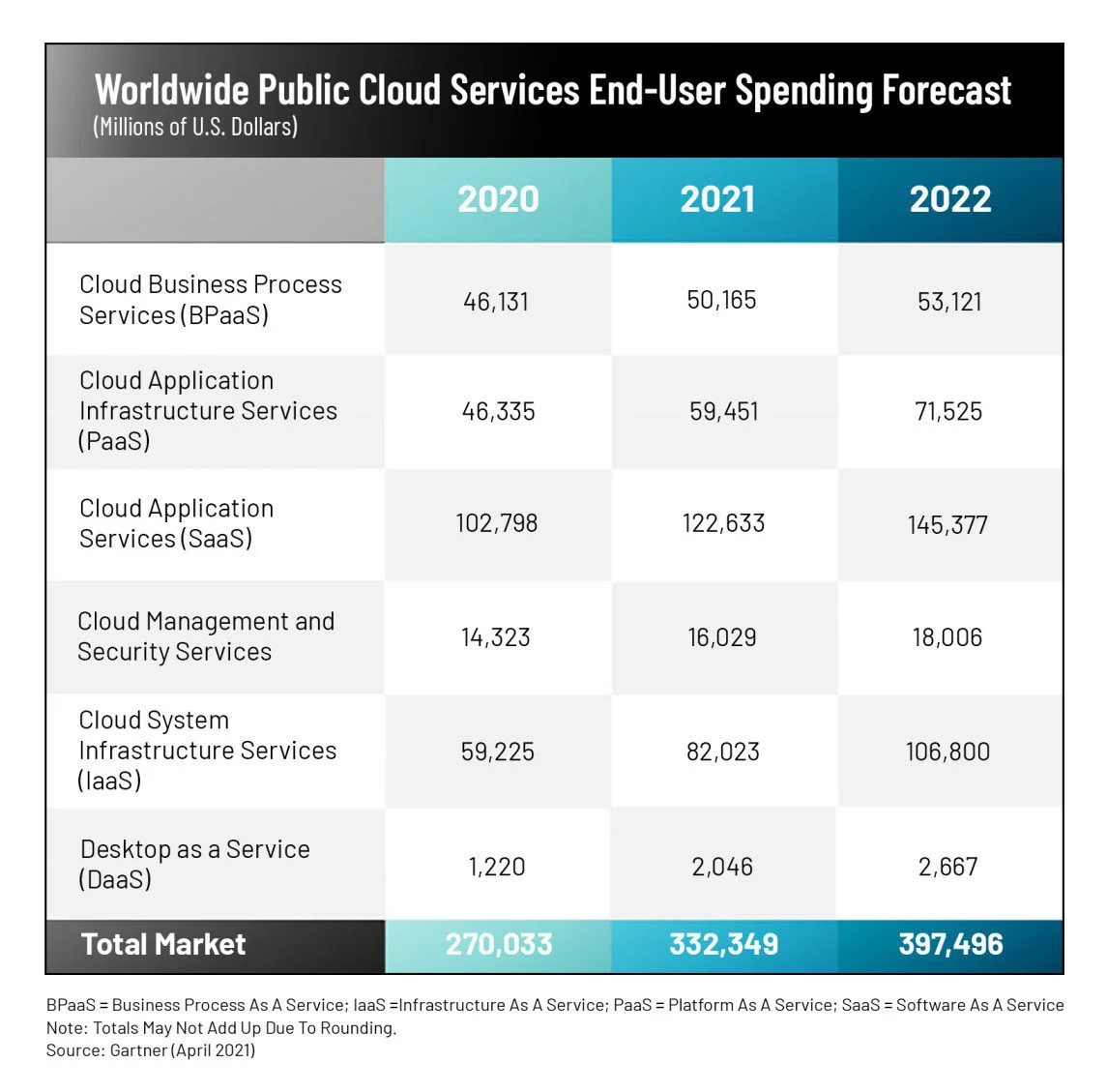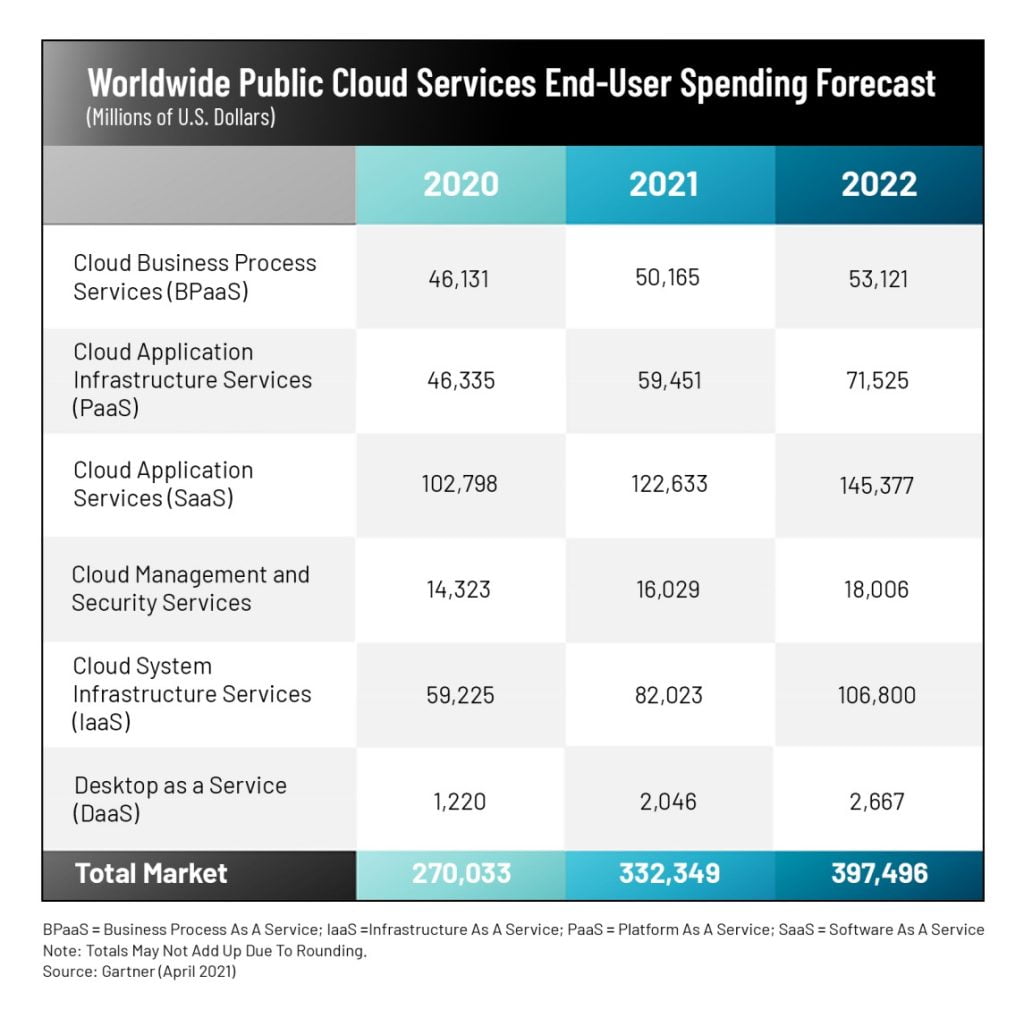 What IT services are outsourced in India?
Web development
Outsourcing web development services to India can be a bold move in your overall business model. You can sift all the technological aspects of the project to a team of experts while you focus entirely on your business processes. You can also hire remote web developers, Java developers, and custom software developers independently at different phases of your project. The control of the project will still very much be within your company while the entire hassle of hiring and maintaining an in-house team of developers will be completely eliminated.
Mobile application development
The pandemic shifted the stance that man regular businesses had towards their digital presence. If a full-fledged website is not yet your cup of tea, having a fully functional mobile app might be just as effective for customer outreach. You can outsource your app-building and maintenance to mobile application developers in India. This way you get access to a talented pool of technical experts without changing your business model and process in any other way.
Enterprise solutions
The pandemic definitely escalated the speed at which businesses had to accept the digital revolution. However, most companies today, have accepted the need for digital transformation to make their business more accessible online. Subsequently, outsourcing your business enterprise solutions can be a great idea to start a parallel digital transformation strategy without interrupting your current business model. The strategy can include application update, system integration, and digitization of your entire enterprise or simply migrating your current digital presence to a more advanced platform. In fact, Enterprise outsourcing to India will bring in a team with concentrated experience in all of these aspects, guaranteeing more professional results at a fraction of your budget and timeline.
How active is the IT and technical talent pool in India
India offers the easy availability of talent provided at a budget-friendly price. Unlike other offshore countries that offer IT outsourcing services, the cost to hire developers is easily 3-5 times less than in places like the United States of America, Europe, or even other Asia Pacific regions. These reasons, coupled with an excellent attitude to work and language flexibility, make India's outsourcing service a fuss-free process.
How much does it cost to outsource to India?
Undoubtedly, India has the leverage to offer the most competitive labor and service costs for It outsourcing. However, the overall costs to outsource your project to India will depend entirely on your strategy.
Are you hiring independent developers or a complete team for your IT development project?
Hiring independent developers
If you are only looking to fill in a position for specific technological requirements or need an expert to monitor a certain phase of your project, you might be better off hiring an independent developer. The hourly cost of hiring remote developers in India can start from as low as $25 and go up to $50. However, the cost will depend on the skillset, experience and technology stack, and the level of expertise you expect from the developer.
Hiring a development team
A development team, on the other hand, will comprise a dedicated project manager, a senior developer, a junior developer, and additional experts such as UX designers and QA engineers. The overall cost of hiring the team will be a total of the hourly wages of all of these professionals individually. On average hiring, a development team in India might cost you within the range of $225-$36000 monthly.
The final tally will depend on the size of your team and the range of functions you need from them to execute your project successfully.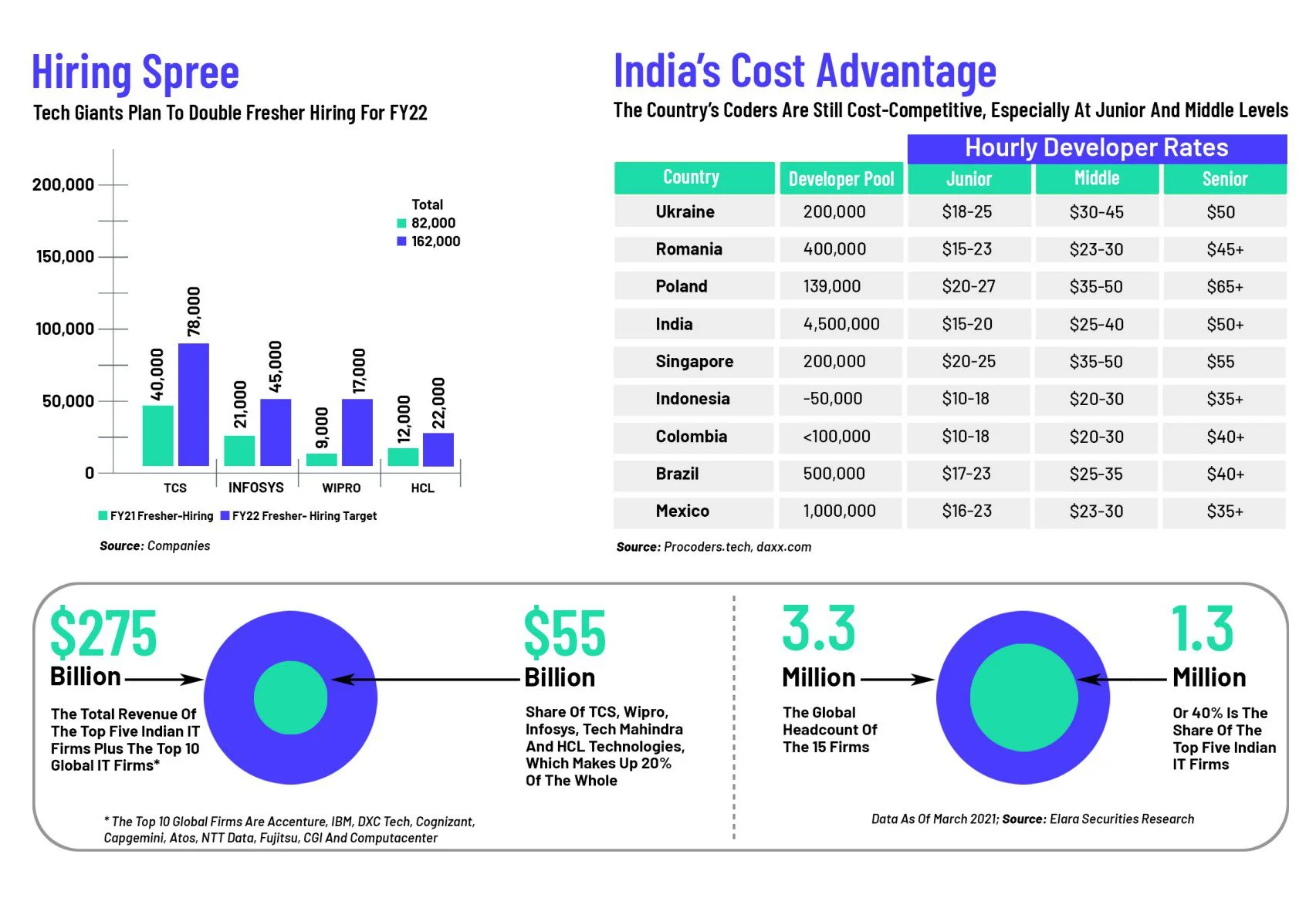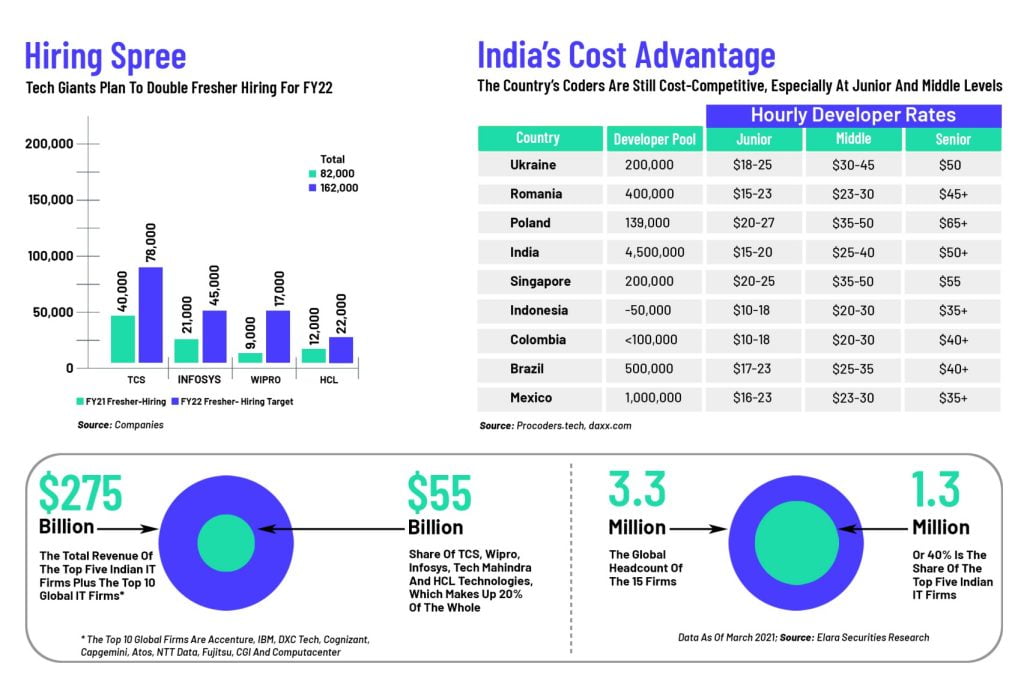 Why do global brands prefer Indian talent?
Large companies mainly prefer IT outsourcing in India to cut costs; however, it does not mean accepting sub-standard work.
Global brands like Indian talent because Indians get the job done fast turnaround times while adhering to International standards and churning out quality work. Indians have proved to rise to the occasion when even in the face of the most challenging tasks, they are reliable and highly respectful as well.
IT outsourcing in India has become the norm because global companies, predominantly European or American companies, can take maximum advantage of the time difference between India and other countries.
According to A.T Kearney's most recent GSLI (location Index) report, India maintains its position as number 1 in the list of countries with the best corporate activity and business environment advantage for IT outsourcing.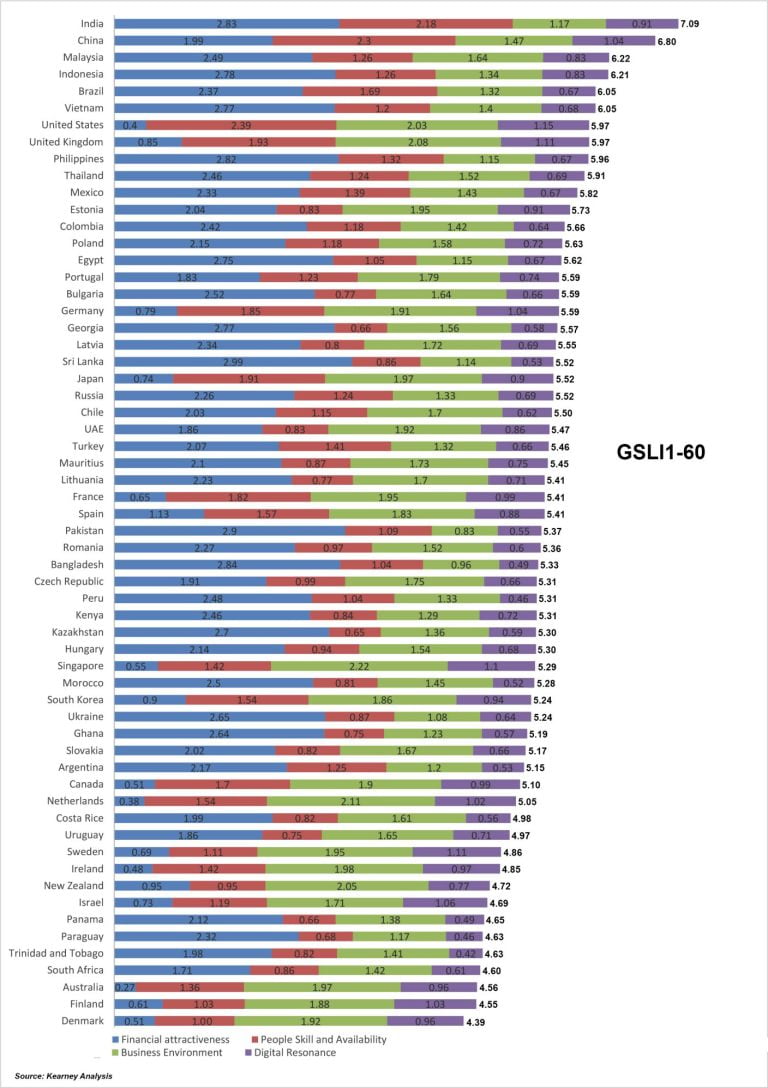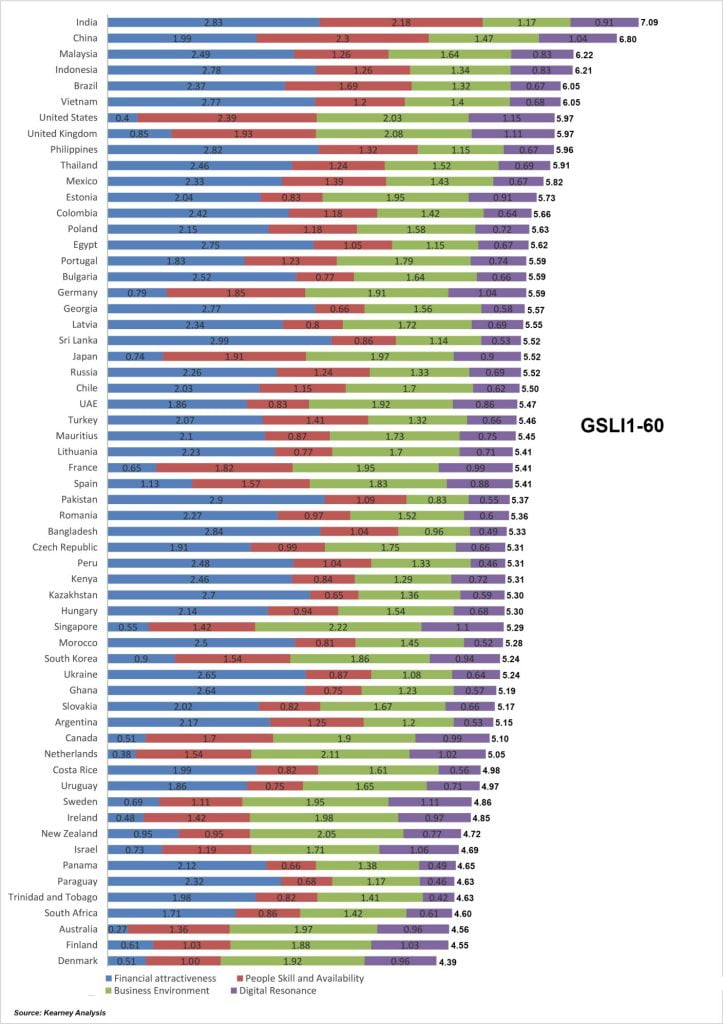 What factors should drive your IT outsourcing decision?
There are several apparent benefits of IT outsourcing to third-party companies; however, not all companies will be the right fit for your projects. So when deciding in this regard, it is essential to make an informed choice that will bring your company a massive competitive advantage. Some ideal factors to follow when choosing your IT outsourcing partner are as follows-
Meeting Scalability Targets
IT outsourcing can only be possible when the third-party company you choose provides you with precisely what you need. Ideally, when making a decision, ensure that the size of the team and the corresponding infrastructure are within the parameters of your project. Avoid decisions that will not enable you to meet your targets satisfactorily to cut costs.
The location that suits your needs
Based on the kind of company you have or the nature of the projects you work on, ensure that you choose an IT outsourcing partner at a location optimally suited to your needs. For example, choosing a company that functions at a different time zone than yours can be milked to your advantage to meet targets quickly and get various jobs done without wasting time.
The outsourcing model
Outsourcing engagement models are mainly dependent on two factors, firstly distance and secondly client-provider relationship.
Contrary to popular belief, both these factors are not mutually exclusive, thereby allowing you to choose and create an outsourcing model that fits your bill.
The company's communication and procedural standards
The cost involved in engaging an IT outsourcing company and ensuring that they have the tools and resources to get the job you need to be done is essential factors to consider. Additionally, you need to choose a company with communication and procedural standards that will best suit your needs. However, It might be a disaster if you end up picking to work with an outsourcing company whose core standards and ideals are in direct contrast to your company.
Government support for IT outsourcing within the country
A major portion of India's surefooted climb up the ranks as the premier destination for IT outsourcing can be attributed to the Indian Government's approach towards this industry. There are several acts and legal recourses that favor outsourcing in India. As a result, IT outsourcing firms can now offer customized agreements with better advantages for their global partners. This ability is a massive advantage, particularly for source companies in the market for outsourcing firms with a competitive approach towards risk-sharing and responsibilities distribution.
Government Acts and Laws that favor IT outsourcing in India
Information technology Act (IT Act 2000)
The IT act outlines the relevant rules and legal implications for outsourcing IT contracts. Overall, the act covers online transactions, cybercrime, all forms of electronic communication, Data storage, and protection. Notably, transferring sensitive data across borders is a vital concern for IT outsourcing contracts. This act lays down the rules and regulations for the appropriate security standards or such cases.
Indian Contract Act 1872
This act regulates all agreements and arrangements, including Indian companies, as part of the deal. You can follow the regulations of this act to include valid elements for your agreement. It also mentions protocols to follow in cases of breach of contract. Subsequently, the companies getting into the contracts have to agree to the terms of this act for the various warranties exceptions. Considerations and indemnity clauses.
Information Technology Rules 2011
India does not have specific laws or data processing. However, the Information technology Rules were created in 2011 as a separate provision under the IT act. This provision defines the reasonable procedures and good practices for data security for Indian IT firms. Furthermore, it describes the identifiers or unauthorized access, modification, or wilful damage of data and the protocols to handle such cases.
The SPDI rules are a further division under the act that deals explicitly with sensitive personal data and information within corporate agreements.
Pros and Cons of IT outsourcing in India
In addition to the multiple benefits of IT Outsourcing in India mentioned above, there are some additional advantages. These can get quick and easy access to skilled professionals. Furthermore, you are at liberty to hire as per your needs, thereby eliminating the hassle of constantly hiring And firing. With ample support from the Indian Government and excellent IT infrastructure, getting projects off the ground and running is easy and fuss-free.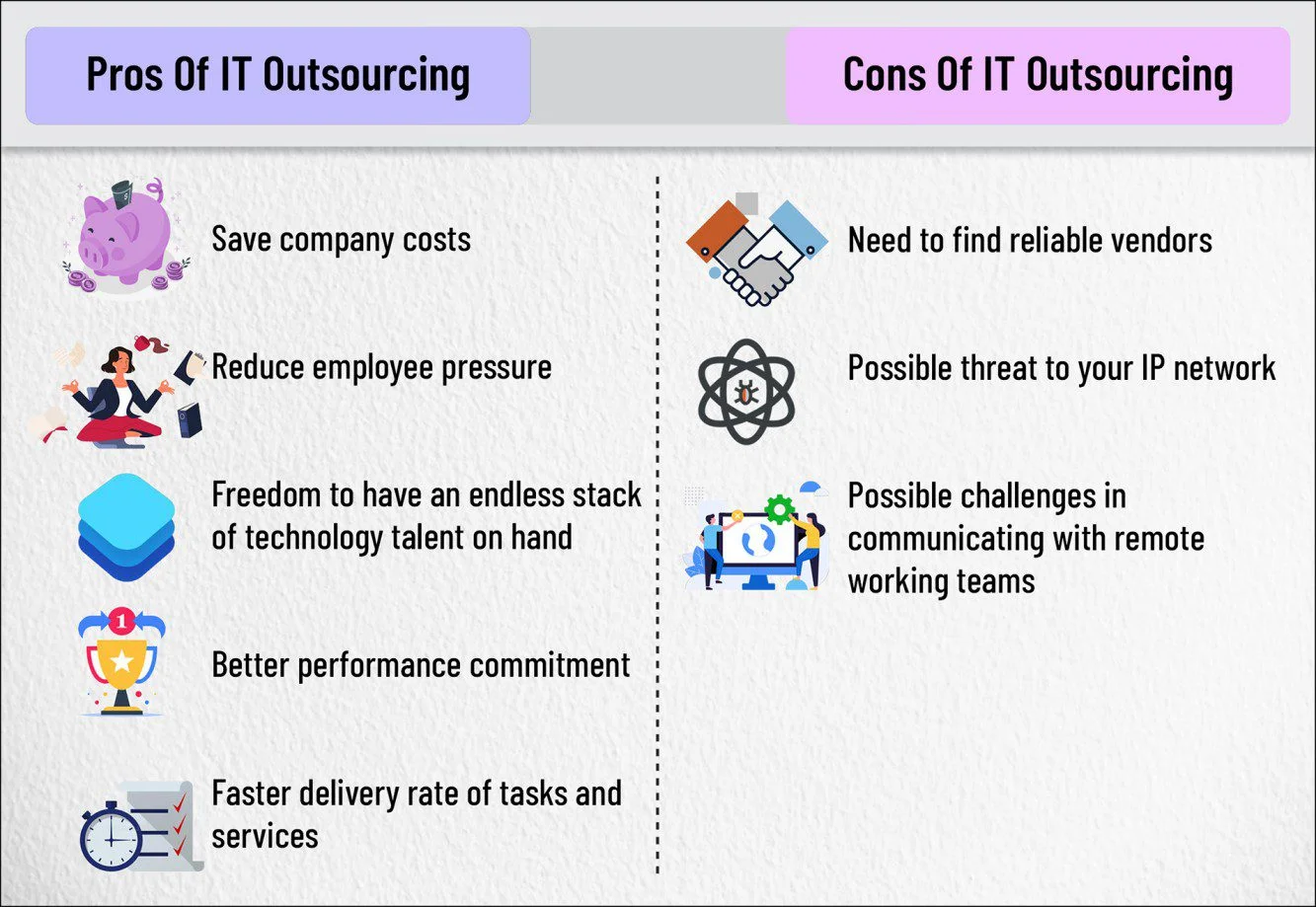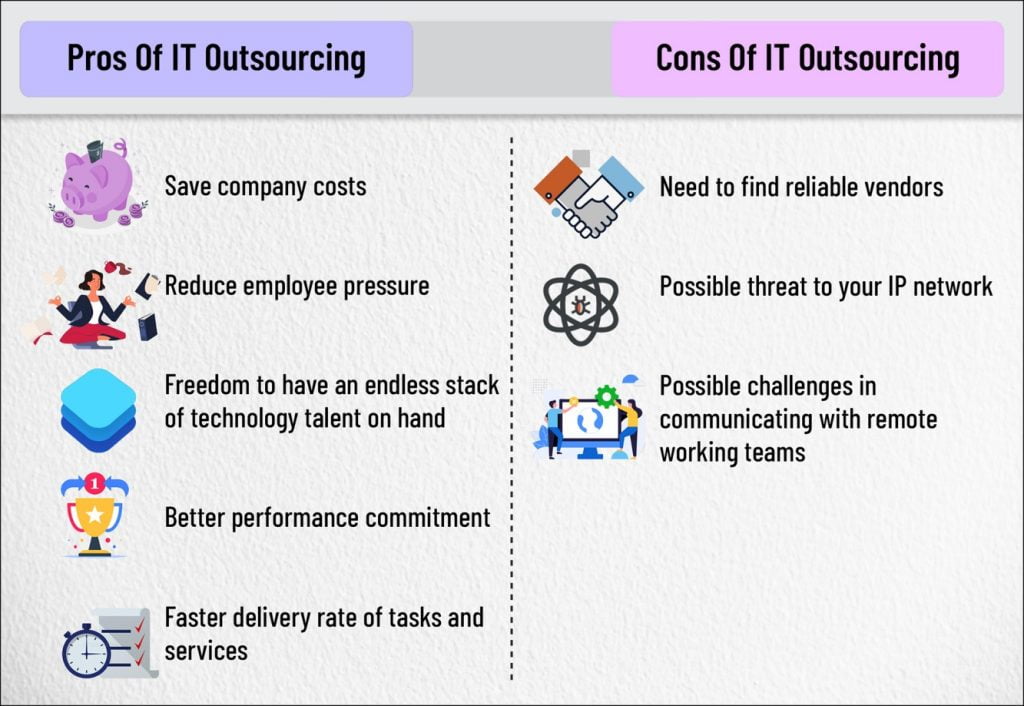 IT outsourcing in India is so popular because all numbers indicate that India is better than the other outsourcing companies the world over. More than 80% of India's IT outsourcing companies aim at increasing their workforce in the coming years. In addition, 40% of the Indian workforce is set to enhance their soft and hard skills. Therefore they tend to become more significant assets to any company they join. Regardless, with so much data, trends, studies, and outsourcing statistics showing the benefits of IT outsourcing to India, one should undoubtedly accept India as not merely the present but the future of IT outsourcing.
Difference between outsourcing and offshoring
Outsourcing stands for external resourcing, and it may or may not be limited to the domestic country. You can choose business process outsourcing (BPO) or Knowledge process outsourcing (KPO) according to the immediate needs of your business. For offshoring, more often than not, the companies seek to shift their base from a developed country to a developing country for maximum financial advantage.
Outsourcing and offshoring have a very subtle line of difference. In fact, that is why the terms are often misused in the place of the other. However, understanding the primary functional difference between the two can help you make a much more informed decision concerning the best option for your business operations.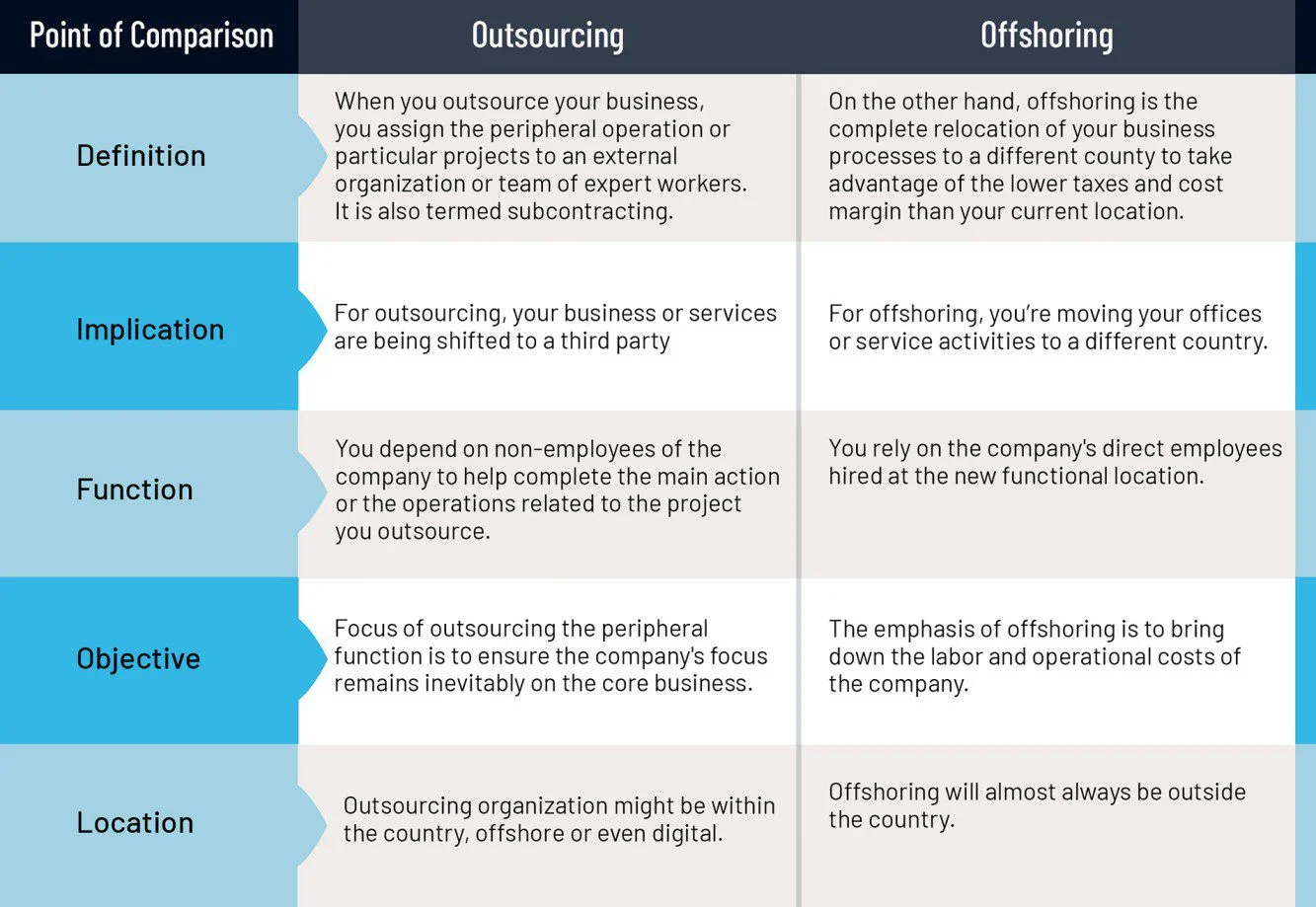 Top 10 IT outsourcing companies in INDIA
1. ValueCoders
ValueCoders has a steady experience of over 13 years as a leading software development outsourcing company. The company has a team of over 450 software developers. They have a wide range of clientele. This includes start-ups, digital marketing agencies, and enterprises from a wide range of niches. The company provides dedicated software development services to their client with a competitive edge on cost reduction and delivery timelines.
Services- Web applications and mobile application development, application modernization, maintenance, and testing
Industries covered- Banking, Healthcare, Retail, Travel & Tourism, Education
2. TrinityWired
TrinityWired has over 15 years of experience in software development. The company mainly caters to the North American, European, and Australian markets. It has retained the position of one of the top IT outsourcing firms in India for many consecutive years.
Services – Mobile app development, custom software development. Web development, IoT solutions
Industries covered- manufacturing industries, Ecommerce, Tech Start-ups, Digital marketing agencies
3. AlignMinds
A certified NASSCOM member, AlignMinds Technologies is an innovative technology consulting firm. The firm has made a niche for itself in the global market as an outstanding Indian outsourcing firm. Their expertise lies in creating competitive digital services and software solutions for their international clientele. Their client mainly ranges from the North American, African, and European markets.
Services- Mobile application Development, Cloud migration, cybersecurity, Blockchain development
Industries Covered- Finances &banking, healthcare, Education, Software Development companies, Ecommerce
4. STAMOD
STAMOD Solutions is a leading niche engineering and technology outsourcing firm that caters to global corporations to pursue high-end innovation and achieve technological excellence. The company provides product engineering, integrated prototype solutions, and proactive technical support to many international clients.
STAMOD works seamlessly with the clients in three primary models.
The company can provide embedded staff directly on the client's Original Equipment manufacturer locations for product development and design outsourcing. The design of the onsite model facilitates its working directly in customer locations while providing offshore services through India. The software and web development outsourcing projects are also manageable remotely via a team of expert developers. These are developers with more than 25 years of experience in their respective domains.
The team at STAMOD is equipped with various software technology such as CATIA, V5, AutoCAD, Altair Hyperworks, JavaScript, Python, and Angular JS.
Services- Cloud computing application, Fixture prototype development, LAMP development, Full-stack development, Scala Development, SaaS Application Development Web Development
Industries Covered– Media & Entertainment, Healthcare IT consulting, Consumer Goods, Automobile, Aerospace, Education, Banking & Finance
5. Clarion Technologies
Clarion Technologies is a top IT outsourcing company with a unique engagement model. It works to help its clients leverage the best outsourcing benefits. They innovate through high-quality resources, cutting-edge technical supervision, and world-class infrastructure. The company has been a dedicated innovation partner for a wide range of small and medium companies and technology start-ups worldwide. They have a differentiated IT outsourcing business model delivered through their team of over 400 technical engineers.
Services- Web & mobile development, Applications Testing, Analytics & BI, Cloud Strategy
Industries Covered- Tech Start-up, Healthcare, Retail, Manufacturing, Entertainment, and Lifestyle
6. Netgains
The company was founded in 2004. Since then, it has been assisting the global organization with its IT software and technological requirements. The company provides a wide range of solutions for the design and development of software and web-based technologies. They have served over 500 companies as a dedicated IT outsourcing partner in a direct and consulting capacity.
Services- Web application development, Web Design, Graphic Design, CMS, Internet marketing, and CAD services
Industries Covered- Healthcare, Manufacturing, Retail and Education
7. India Interactive
India Interactive was established in 2006 by technology experts with over 15 years of experience in their fields. They have been a leading IT consultancy since their launch. The Company's main development offices are in Agra India. However, they also have branch offices in USA and Thailand. They have been instrumental in creating highly customized web applications and digital solutions for a wide range of global clients. Their core competencies include Digital marketing and custom software development.
Services- Digital marketing, software development, Web and windows application development, Graphic Design and Content Curation
Industries Covered- Retail, Hospitality, Real Estate, and Education
8. RailsCarma
RailsCarma is a leading IT outsourcing agency predominantly specializing in Ruby on Rails Development solutions. The company has tied up with several start-ups, entrepreneurs, and large enterprises to provide customized development solutions.
The company employs veterans in the field of Ruby on Rails. These are employees who have been working with this platform from its inception to deployment to the solution. The team also has advanced expertise in custom web applications and software development.
Services- Custom web application development, e-commerce development, DevOps solutions, App Support, and Maintenance
Industries Covered- Logistics & Transportation, Retail Healthcare, manufacturing, Government
9. MMF Infotech
MMF Infotech has accumulated expertise in providing back-office-supported customized technological solutions to various businesses globally. The company has augmented static and dynamic websites and developed custom software solutions. They have repeatedly proven their skill and expertise in e-commerce support, back-office support solutions, virtual assistant support, and amazon seller support.
Services- Amazon Account Management, Virtual Assistant Services, Customer Support, Ai and Machine Learning, Digital marketing services
Industries Covered- Consumer, Enterprise, Retail, Start-ups, Healthcare
10. Maestro
Maestro technology has been active in custom software development since the year 201. It is a boutique web and software development firm with experience working with a variety of technological platforms. They have a high customer retention rate due to their excellent standards of customer service and advanced development and design process.
Services-Mobile applications, Enterprise Mobility, Business application, Artificial Intelligence, software development, E-commerce development
Industries Covered- Manufacturing, Publishing, Banking & Finance, Healthcare, Retail
Conclusion
To sum up, many reasons contribute to the current reality that the Indian outsourcing workforce is highly regarded. It is an obvious win-win situation for any company wishing to focus on its core activities instead of wasting precious company resources on jobs that are easy to outsource to other offshore companies. IT Outsourcing in India comes as a definite answer to companies' prayers on the lookout for a flexible, skilled, professional workforce that can offer them their money's worth.