STAMOD has built some state-of-the-art mold tools with its partners across the globe. We have designed 6500+ Injection molds to date. Our capability of up to 3200 tons makes us a favorite company for some big brands. We have focus heavily on targeting the quality and life cycle of the mold. Mold design and analysis are done in-house on the latest licensed software.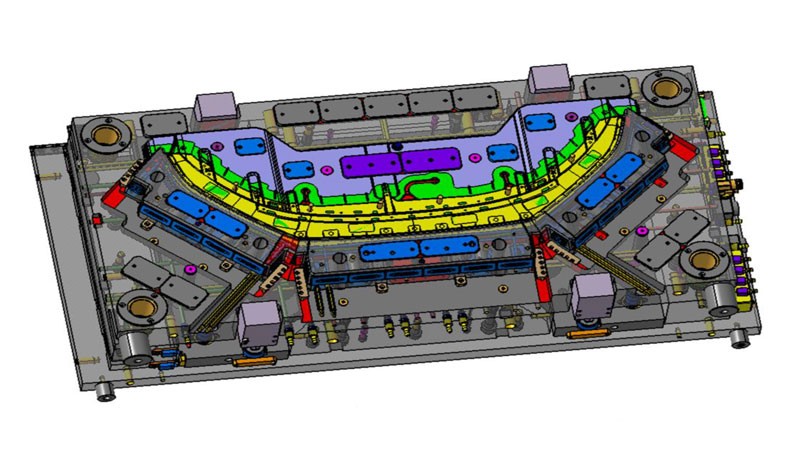 What We Offer
At STAMOD, we have an experienced team to handle any task and develop your plan into reality. Our partnered capabilities provide end-to-end solutions from concept to precise tool manufacturing using various applications including NX, Catia, Solidworks, and others. The product line includes medium to large-scale molds designed mainly for the automobile industry, including interior parts, exterior parts, and door trims. We can take your idea and conceptualize it into a designed product ready for the build.
Why Choose STAMOD to Outsource Injection Molding Service?
High-Quality Service
At STAMOD, we strive to provide 100% error-free and high-quality service in three different models. We work on the production and design to ensure your injection molding service reaches completion without bottlenecks or time lags. Our outsourcing services outfit your project with embedded staff onsite at the Original Equipment Manufacturer (OEM) locations.
Fast Turnaround Times
We have a global infrastructure of companies and delivery centers to ensure that we provide the fastest turnaround time without compromising the quality of our injection mold design and development services.
Highly Qualified Team
Our team comprises industry experts with 100+ person-hours of experience, with proficiency in practical production and theoretical design knowledge.
Global Infrastructure
STAMOD works with invested companies and partners across India, Malaysia, the Philippines, Indonesia, Sri Lanka, and Thailand.
Dedicated Point of Contact
When you trust STAMOD to outsource your injection molding, we immediately assign a dedicated project manager as the SPOC for clear communication and seamless management of the collaboration from the very first day until the project completion.
Scalable Service Packages
At STAMOD, we pride ourselves on providing flexibility of service. As a result, we can scale our team and infrastructure to adapt to the demand of your injection molding outsourcing project.
Innovative Technology Access
The standard of our infrastructure backs the quality of our service. In addition, we have access to state-of-the-art technology and tools for injection molding production and design.
Guaranteed Customer Support 24/7
Our team handles every minute detail to ensure the smoothest run for your project. We have dedicated members focused at all times on project management, marketing, sales, and customer support for immediate resolution of any kinks and bottlenecks in the project line-up.